capillary tubes

Capillary tubing is the name given to all tubes whose outside diameter is less than 4 mm. Wall thickness is usually less than 1 mm and, in some special cases, it may be extremely thin, although never less than 0.25 mm. Capillary tubing is usually supplied in coils and, apart from exceptions, it comes in annealed form.
We can offer you capillary copper tubes for very competitive price.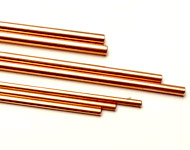 In our offer we have:
- copper capillary tubes,
- braided copper capillary tubes
- tinned copper capillary tubes
- plasticised copper capillary tubes
Outer diameter: from Ø 1,4 mm to Ø 6 mm
Internal diameter: from Ø 0,4 mm to Ø 5 mm
Copper tubes are produced in Serbia of 100% Serbian copper. Therefore, we can supply copper tubes with ~ Eur 1~ form. This means that the tubes are
not subject to additional 4.8% European duty!
* Copper quality: according to DIN 1787
* Temper: soft, semi-hard, hard and extra-hard
Permissible impurities and humidity of internal surface according to DIN 8905 teil .1
* Delivery: semi-hard and extra-hard tubes are delivered in pulleys (pulley mass 5 - 15 kg.) or in straight of 2 - 5 m. Soft tubes are delivered only in pulleys.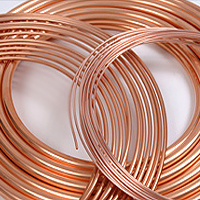 * Packaging: in cartons or wooden cases.
Ends should be closed by process of flattening or by plastic caps
* Tubes are filled with dry nitrogen.


The constant research and firm development ensure that you are getting the best capillary tube with most advanced and cost effective technologies. Copper tubes are produced in Serbia according to Quality Management System ISO 9001:2000.
For information for sizes and prices please email us at info@copper-tubes.net
or telephone us on +381(0)11 3970 300
In our offer we also have:
● Copper tubes for LPG vehicles

Click on the links above to see more product details.
Product range
Other products:

C

onductors, cables and wire

Enamelled copper wire
Copper strips and sheets
Copper, bronze, brass ingots

Contact details
Careers
Interesting facts